i feel like death, literally. these last couple have days have been nothing truly special around here, and that's giving it to you with a positive spin. it's currently 3:23am, and i'm wide awake (thanks to kris coming home an hour ago) with what seems like no hopes of possible sleep in the near future. i can hear jack snoring on the sectional, along with buzz gritting his teeth. those two's odd sleeping habits, along with the wind outside, and this wonderful cough, leave me no choice but to sit in the office and peruse my blog reader. i'm still debating if work seems feasible tomorrow, well, later this morning. as of now, i'm voting probably not.
the other day my sister sent us out a box of awesome goodies. well two boxes actually. they were a combination of christmas, birthday, and random holidays in between presents, because that's how cool we procrastinators are. oh yes, it's not just her, i have a box for each branch of our family sitting right next to me as i type. anyways, the boxes had some awesome stuff. for one these dolls: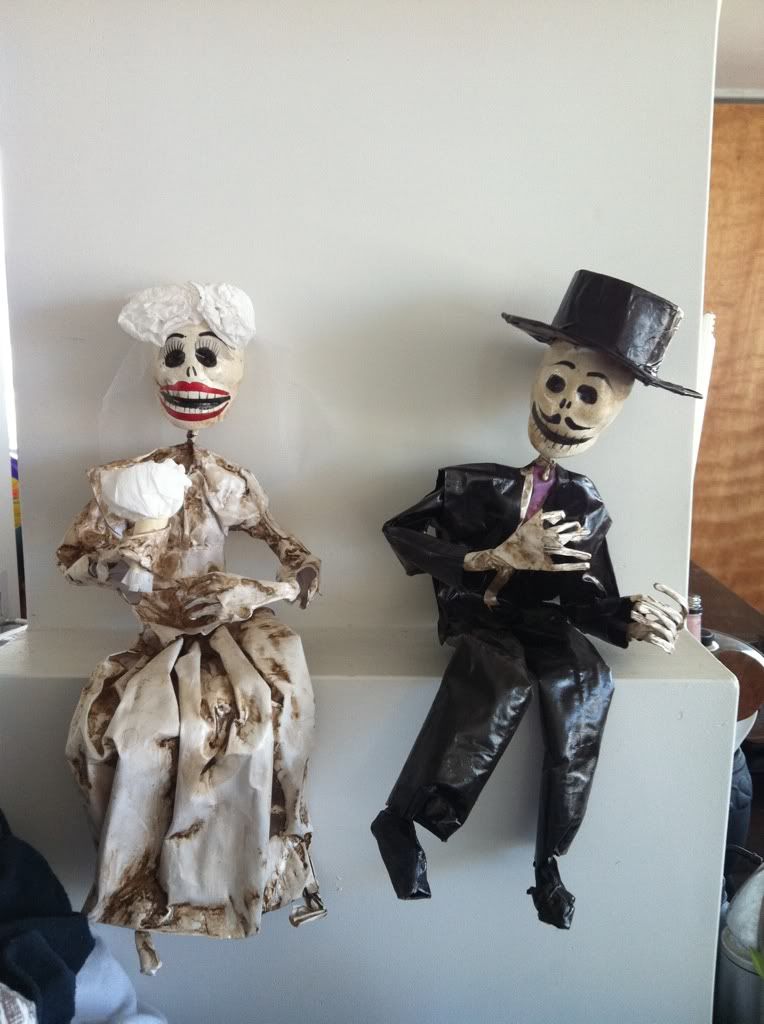 aren't they sweet? i guess one of the huge pluses to living in arizona is the ability to pick up mexican folk art and send them to the sister who is currently cut off from everything except tiki masks and "mahalo for removing your slippahs". not that i'm complaining, but there's only just so much space on one's wall for hibiscus and plumeria artwork...
i guess i should attempt more sleep soon. i doubt it will be a work day, based on the simple math of no one is really all that productive on 3 hours of sleep. throw in a head, chest, and flu bug, and that percentage of production drops into the negative range. good night, err.. good morning!
xo, cough cough, ash